A path to Peace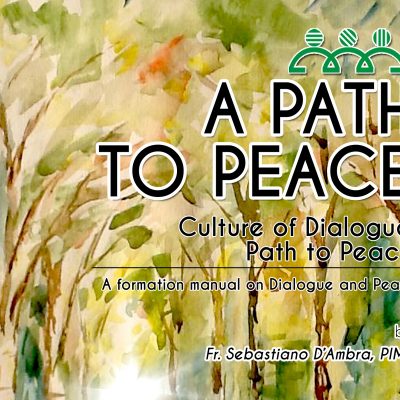 "You are so good… What is lacking in you is that you are not Muslim!"
This is one of my first experiences of respect and admiration coming from the people with whom I lived with in a Muslim Village 35 years ago in Siocon, Zamboanga Del Norte, Mindanao. My answer was a smile, but inside me the answer was
"I try to be good because I follow Jesus and his teachings of love".
Maybe some Christians have the same feeling when they meet sincere and committed Muslims. They may feel that these Muslims have the same goodness of good Christians and they also think that what they lack is that of being Christian. This initial sharing helps me to say that we can find goodness in all people of different cultures and religions as well as bad elements all around.
The challenge that I wish to promote through this manual is to invite people to respect and appreciate religions, be rooted in their own religion and culture and discover God together as the fountain and source of love and compassion. Translated in simple language, I hope that this manual will help many to rediscover and experience that "God is the fountain and source of "dialogue". This concept is well expressed by the Silsilah Dialogue Movement in its motto: "Dialogue starts from God and brings people back to God".
Guided by this understanding of a deeper dialogue, this manual introduces "Culture of Dialogue, as Path to Peace".
What is new in this presentation is that the "Culture of Dialogue" here is introduced as a spiritual dimension of a spirituality of life-in-dialogue with God, the self, others and creation through a process of personal and social transformation. Thus, the priority of this manual is to present a "formation" program that brings people to action and face realities, especially in the context of the multi-cultural and multi-religious reality of Mindanao. The future peace in Mindanao cannot be achieved only by solving "issues" and making "new laws" but changing attitudes and building people ready to use religions in the spirit of love and respect.
This manual is divided in two parts.
First part – Presentation of a number of chapters that gradually introduce the "Culture of Dialogue" with a special attention to the Muslims and Christians who will benefit from this manual.
In preparing this manual I was guided by the following concepts:
1.The manual cannot say everything. It is only an instrument to challenge those who use it to be creative and use what is more appropriate and needed.
2.The manual is not a textbook for students, but a formation book for teachers and leaders of different groups. All are invited to internalize it and share what they believe is more valid according to the formation program they contact. Thus, those who use the manual can follow it step by step, or choose only a few chapters for a specific seminar or activity.
3.This manual proposes "Dialogue and Peace Education" for a sustainable foundation on dialogue and peace especially in the context of the multi-religious society formed by Muslims and Christians in Mindanao. The spiritual emphasis of this Dialogue and Peace Education, instead of putting apart religions or facing issues only, is to introduce the spiritual dimension of life that goes beyond differences of religions sharing what is treasured by each religion in line with the Golden Rule of love of God, and love of neighbor and love of the common good.
In the presentation of this first part, readers will find some repetitions to help those who
use this manual to understand the convergence of basic concepts in different chapters that we wish to communicate in order to internalize more the important elements of the Culture of Dialogue: Path to Peace.
Aware that those who use this manual will also use it as a guide for trainers'training and many will choose only some chapters for training of a few days, those who use this manual will be able to understand better the spirit of this presentation on the Culture of Dialogue, and appreciate it not as a new strategy to achieve peace, but a new spirituality for a deeper foundation of peace.
Second Part – It is a collection of appendixes and topics taken by different authors. The topics of the Appendixes can complement the presentation of different chapters of the first part of the manual. This choice hopefully answers the needs of those who do not find, in the first part, all they wish to find, especially related to basic concepts of Christianity, Islam, Human rights and other suggested initiatives like the Harmony Chain, the Peace Education, etc.
I hope that this manual is useful to many to build together a society where many of us live on the Path to Peace as it is introduced by this manual on Culture of Dialogue: Path to Peace.
Fr. Sebastiano D'Ambra, PIME