An Inter-Faith Seminar-Workshop for Peaceful Mindanao | Nov 24, 2010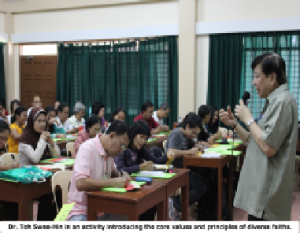 In Zamboanga City, Philippines – Inter-faith dialogue and peace building efforts has been given much
weight and attention to end armed conflicts and violence cause by misunderstanding, mistrust, prejudices and biases. As an inter-faith dialogue movements have shown, diverse faiths need to and can empower themselves and cooperate common actions for peaceful transformation. Drawing inspiration from their shared values and principles, faith institutions and individuals can cooperate to overcome conflicts and other problems of peacefulness.
Silsilah Dialogue Movement in partnership with the Ateneo Peace and Culture Institute successfully held a one-day Inter-Faith Workshop on Pathways to a Peaceful Mindanao. The seminar-workshop provided the opportunity for various faith communities to initially explore to build bridges of understanding through dialogue and encouraged participants to reflect on how to find creative pathways to help in transforming multiple dimensions of peacelessnes, and to propose practical ideas and projects for diverse faiths to cooperate in peace projects and programs to advocate for national and regional policies that benefit the well-being of all communities.
Focusing on the theme "Building Bridges, Harvesting Peace", participants had a fun-filled getting to know you activity where they greeted each other "peace" in different languages written in a dove-shaped paper. Dreams, aspirations and visions of peace were also articulated as well as the different present realities of violence being experienced at all sectors in society were delivered in a creative skit or drama presentation and everyone unexpectedly enjoyed it. Personal views and opinions were listened to during the open forum.
Invited eloquent resource speakers, Dr. Toh Swee-Hin, distinguished professor, U.N. mandated University for Peace in Costa Rica and Dr. Ofelia Durante, a well known researcher and peace educator shared their input on the topics Education for Conflict Resolution and Transformation; Current Mindanao Conflict Situation: A Perspective; Reflections on Resolving Rido; Peaceful Approaches to Conflict Resolution: Konsult Mindanaw Outcomes. Konsult Mindanaw (Consult Mindanao) is a sincere response to people's desire for participation in the Mindanao peace process a series of
consultation-dialogues within various sectors regions conducted in an atmosphere where people feel free to speak and be listened to. Fr. Sebastiano D'Ambra, PIME, founder of Silsilah together with Dr. Swee-Hin served as panelists during the open forum. Three representatives from the participants shared their personal reflections and the impact of the seminar-workshop. Fr. Tony Moreno, SJ, president of Ateneo de Zamboanga University on his closing remarks he said, "there are some movements, good news that we should celebrate that there are people really bridging people, a forum like this one where we come together, we have grassroots people here, from the academe, from NGO, and all source of people this is another way of bringing people together because it is a very complex issue that we are trying to address and I always believe that this will move for the better, there is hope."
This seminar-workshop also emphasizes that signing of a peace accord or agreement to end armed conflict also need to be accompanied by peace building of the education system as well in all other social, economic, cultural and political dimensions of Mindanaon society.
Furthermore this activity paved the way for an appeal address to the different sectors (religious, businessmen, youth, politicians, etc.) challenging environmental destruction and promoting sustainable development and lifestyles. NGO's and individuals working courageously to defend human rights and freedoms (e.g., refugees, child labourers, political detainees, women migrant workers, Indigenous peoples, and others). Our individual and social responsibilities to transform deep-rooted culture of violence and war towards the building of a culture of peace within ourselves, families, communities, institutions, nations, and our ONE WORLD.