Dialogue with Creation
Building a healthy environment through a healthy community. "Life is the essence of the existence of Humanity and Nature that magnifies a beautiful 'fingerprint' revealing Gods' Sacred Presence on Earth…."

THE LOGO: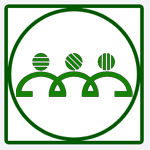 The Silsilah logo used for our program Dialogue with Creation is a sign of Harmony between the Earth represented by the square and heaven represented by the circle. The official logo of Silsilah in the center indicate the Silsilah vision and mission.
PURPOSE:
Dialogue with Creation is an experiential ecological active harmony approach of a spiritual encounter of Life-in-Dialogue with the Creator of life that builds a process of creating a healthy environment for harmony and peace on the earth and humanity. Silsilah is progressively initiating this program through holistic ecological active harmony approach in a humanitarian extension work with appropriate technical assistance, training and support services to the hands-on caregivers of the earth known as the farmers. Farming in Dialogue with Creation for harmony and peace is an inspiration from deep contemplation of Fr. Sebastiano, founder of Silsilah, who intuitively recognized the need for small farmers to be trained so they may become conscious tillers of the earth with dignity and compassion in caring for all of God's creation. With this program, a Harmony Farm Center was established in a 14 hectares of farmland located at Harmony Village of the Silsilah Dialogue Movement Brgy. Pitogo, Sinunuc, Zamboanga City to become a learning farm for small marginal farmers and a harmony farm center as a training ground for spiritual formation for farmers and fisher folks. 
Characterizing Farming in Dialogue with creation
1) Unity with God, with Nature and with Others working in the farm as an act of love to feed with nourishment one's self and others, and to move and act as in a sacred place, as God's partner.
2) A sense of stewardship for the Earth, starting with one's farmland: no pollutants, no abuse, no toxins
3) Renewing a sense of wonder, mystery and sacredness as unfolded in the processes of nature constantly listening in silence, to hear God speak through nature and discover the wisdom of God in the dynamic movement of life force in nature and humanity.
4) Through prayer of gratitude and reliance on God's providence and grace.
5) Faithfulness to the truth of things i.e. to the true nature of things.
6) Teaching by example i.e. living and sharing by what one actually learns in farm life.
7) Cleansing oneself of negative tendencies: Greed, Avarice, Selfishness, Thoughtlessness, Ignorance, Violence and Non-Love. 
Initiatives:
Ecological Activities:
· Harmony nursery for conservation and preservation of indigenous genetic resource, specifically indigenous rainforest trees.
· Seed saving, in a living seed bank of indigenous food crops i.e. rice, corn, legumes, and other native food crops and medicinal plants.
· Fruit tree collection (as a genetic resource) at Silsilah.
· Tree planting of indigenous rainforest trees and mangrove forest trees.
· Ecological waste recycling to assist in reduction of greenhouse gases and toxins.
· Awareness sessions/ workshops and information-drive on environmental issues and concerns.
· Advocacy in Conservation, Protection and Development of Watersheds for clean and safe water to consume and to help mitigate global warming.
Farming/Fishing in Harmony with nature:
· Farmers' training on Biodynamic Agriculture and other methods in alternative agriculture towards a living-agriculture system (including indigenous practices).
· Escuela Del Siembradores (EDS) as a "Farm School" where farmers go to school and the school goes to the farmers as well for concrete and practical hands on learning experiences to understand all aspects of life-giving processes in Nature.
· Trainer's training of qualified farmer leaders as resource persons on Sustainable Agriculture and Community Organizing.
· Formation of farmers/fisherman as leaders with a living knowledge on ecological active harmony approach in a culture of dialogue for peace through leadership training programs.
· Technical assistance with appropriate technology in the conversion of farms from chemical treatment to organic way with conscious activities on action-research.
· Organizing farmers' and fisherman groups to build living ecological farming/fishing communities.
· Production and marketing assistance for organic produce of trained farmers.
 DIALOGUE WITH CREATION PARTNERS MOVEMENT (DCPM)
DCPM is a movement part of Silsilah formed by individuals and groups willing attention to the many challenges of Dialogue with Creation today.
This movement at present gives a special attention to:
THE FRIENDS OF ZAMBOANGA WATERSHED MOVEMENT
Formed by committed partners (individuals and groups) willing to give a special attention to all watersheds of Zamboanga in collaboration with agencies of the government that are also protecting the watersheds of Zamboanga City.
THE PLANT, CARE, SHARE PROGRAM
Encourage all, especially those in the urban areas to make a special effort to educate people to plant, care and share with their neighbors.