Laboratories
Silsilah promotes the culture of dialogue, path to peace through many programs and initiatives. Here we present some of them listed as "new laboratories" because they are tested by Silsilah to be shared to others as new challenges of dialogue and peace to which other groups and institutions can adapt and experience.
---
Harmony Awards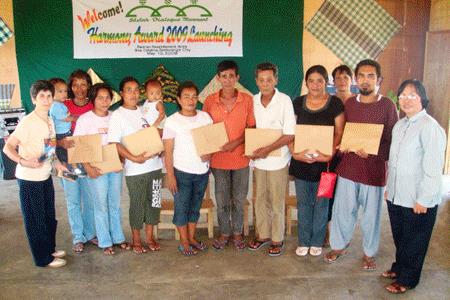 The movement gives a harmony award every year to Muslim and Christian families who live together in harmony, peace, and show indicators of social transformation by living life-in-dialogue or by way of community relationship, cooperation or projects in the area of health, sanitation and others for the common good. This award commemorates the death of Fr. Salvatore Carzedda, PIME who was a member of the Movement and was violently killed on May 20, 1992 along San Jose Road on his way home to the PIME Regional House after giving his talk to the participants of the summer course. This initiative is made possible by contributions from the family, relatives and friends of Fr. Salvatore.
---
The Harmony Zones
The movement encourages the formation of harmony zones; identified areas where Muslims and Christians live together and commit themselves to live in peace, harmony, and dialogue and are able to influence their neighbours and people of other cultures and faiths  to join the program and engage in activities for the good of the community. A Council of Leaders is formed who help in the identification of needs and resources of their respective zones. The members are given regular formation on the value of cooperative work, and motivated to promote dialogue, peace and development, and assist in emergency situations like crisis, fire and natural calamities.
(Art Related to the Cultural Heritage of Mindanao-Sulu) In the year 2008, the Silsilah Dialogue Movement was challenged to explore art as another area of dialogue. This challenge was inspired by two meaningful events. The first was the initiative of Film Director Marilou Diaz-Abaya, in collaboration with Silsilah, in organizing "Art for Peace" in the Manila area; the second was the donation, by the artist himself, National Artist Dr. Abdulmari Asia Imao, Sr., to Silsilah of a painting that had been entitled "A Call for Peace". The project was given the name Art Related to the Cultural Heritage of Mindanao-Sulu, shortened to the acronym ARCH
---
Harmony Post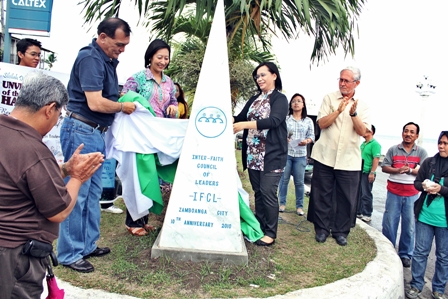 The Movement commemorates special occasions and events in its life by planting harmony posts in public places, as a symbol and reminder that all people, Muslims and Christians, are called and challenged to be men and women of dialogue, harmony and peace. The post prominently carries the greeting "Peace be with you". The message will be: "Moving Together towards a Culture of Dialogue for Harmony, Solidarity and Peace" and " Let us build a civilization of the common good"
(Harmony Post unveiled last June 12, 2011 at the R.T. Lim Boulevard in Zamboanga City during the 10th year anniversary of IFCL-Zamboanga City. Unveiled by the City Mayor of Zamboanga, Hon. Celso Lobregat together with the 1st District Congresswoman Maria Isabelle Climaco.)
---