Silpeace: Bridge to Dialogue, Path to Peace
The Manuel Luis Quezon University is the pioneering school in Manila that opened the door for the SilPeace organized by Silsilah for the Inter religious program of the parish of Quiapo in Manila. One of the things that the SilPeace Manila is being challenged into these coming days is to assist in the team building and psycho-social supports to be conducted to the Muslim children who evacuated to Quiapo all the way from the evacuation centers of Iligan and Cagayan. The experience we present in this OASIS News is a good story presented by Johayna, a Maranaw girl member of SilPeace during an activity done on August 4, 2017 at Dela Salle University, Taft Avenue, Manila.
Good morning and Assalamu Alaykum Warahmatullahi Wabarakatuho. I am Johayna A. Macodi, and I am 17 years old from Manuel Luis Quezon University. I am currently one of the most active members of the SilPeace Club Manila.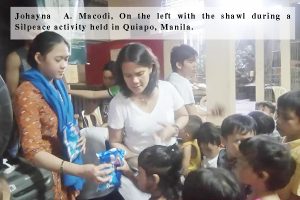 Being a Muslim youth, who is also part of a conservative family which is very common in our culture as Maranaos, it made me once ask myself what made me join the SilPeace Club Manila? This is despite the fact that normally, based on our customs and traditions we, young Muslim women are strictly being monitored, and not always allowed to go out of the house especially during weekends when there are no classes.
I am a child much pampered at home by my parents. I get everything I want because I have a very supportive dad who spoils me as his beloved daughter. But as I grew up and could already understand things on my own, I also have come to realize the strong walls of division between Muslims and Christians caused by prejudices and biases that until now, we the young Muslims especially, are still being affected by their.
However, out of providence, I learned that there's this new group being organized in Quiapo which they call the SilPeace Club Manila, where many members are my good friends and classmates. I got curious and interested about the said group, but I told myself, my parents would surely not allow me to join the group. Thus, I did not bother to join anymore. However, every time I saw my friends and classmates on social media enjoying in teaching the Muslim and Christian street children in Quiapo, seeing them attending lots of activities related to peace advocacy, I somehow got jealous and felt that I also want to be with them, to become free as they are so that I can also enjoy with my peers.
And so, at that time my heart was really telling me: "Why not try?". But I needed a backup! So, what did I do? I asked our Adviser Prof. Feria, who is at the same time the SilPeace Club adviser in our school to ask permission from my father to allow me to join the activities of the SilPeace Club especially every Saturday. I was so confident that time for I knew my dad couldn't say NO to a person who once was his teacher way back in his school days. And you know what happened next?…Finally,… my strategy worked! HAHA, and I, was allowed by my parents to join! Kaya salamat Ma'am Feria!(so, thank you Ma'am Feria)… And as I continue to journey with the SilPeace in many of our activities most especially in teaching the Muslim and Christian street children, and even cooking food for the children, I started to feel for the first time, the sense of fulfillment and extraordinary joy from within by being able to help others. At first, honestly, I just simply wanted to enjoy doing things together with my friends. But this particular experience with the SilPeace Club gave me a deeper meaning and joy from within. And it is no other than to be of service to other people, and become part of the signs of hope in the society by bridging the Muslims and Christians towards peace and harmony through our simple but concrete initiative that we do in the spirit of the Culture of Dialogue: A Path to Peace. I am proud to say, that through this group, I realize that I can do and give something with the heart, even if it is simple in order to attain the long desire for peace.
I was so happy to meet Fr. Seb in Manila, an Italian priest, the founder of Silsilah Dialogue Movement. He is very bold in expressing that he loves the Muslims the way he loves his fellow Christian brothers and sisters. And so, this made me realize if he, as a Christian, can love us Muslims like his own brothers and sisters, then why can't I also love Christians like my own brothers and sisters as well.
So, before I end my sharing, as a member of the Muslim community, I would like to challenge you my dear fellow young people. Let us go out of our comfort zones to meet on common ground where the only language that we speak are LOVE, MERCY and COMPASSION which are also being taught to us by our religious leaders both Muslims and Christians.
That's all, and thank you!