Silsilah Bulletin 2016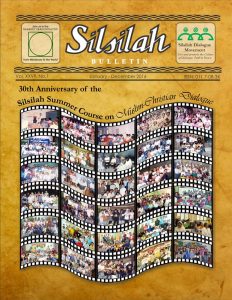 To continue the tradition of Silsilah Bulletin which started in 1985, we print this special issue for the year 2016. This year has been full of events and challenges for the Silsilah Dialogue Movement and, in a special way, we recall the 50th anniversary of the priesthood of Fr. Sebastiano D'Ambra, PIME, and the 30th anniversary of the
Silsilah Summer Course on Muslim- Christian Dialogue in which occasion we highlight the four Silsilah Alumni Martyrs. Inspired by this experience, we presented three stories from three Silsilah Alumni who have committed to the spirit of Silsilah both in the Philippines and abroad.
We always ask ourselves what the priorities are and we know that there are many challenges and priorities and we try to answer some in Zamboanga and in the other parts of the Philippines where Silsilah is present through its Silsilah Forums.
One of the big challenges for all is the increasing radicalism with violence and at the same time, the need of a better dialogue among peoples of different faiths specially in Mindanao, between Muslims and Christians.
We hope that this special Silsilah Bulletin would be an inspiration for many to reflect on the importance of Dialogue and Peace counteracting violent radicalism with radical love towards radical change.