The September to Remember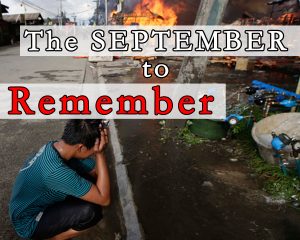 The attack on Zamboanga City by the MNLF, Misuari Faction, led by Ustadz Havier Malik on Sept. 9, 2013, is an event that will long remain in the memory of zamboangueños. That siege razed approximately 10,000 houses and affected 150,000 people in Rio Hondo, Mariki, Lustre, Sta. Barbara and Sta. Catalina,
mostly-poor communities in the east coast of the city displacing thousands of people, majority of whom were Muslims, and hundreds killed – both Christians and Muslims.
This pamphlet is an attempt to record the feelings and experiences of the victims for the purpose of posterity recounting their heart–rending discovery of the attack and then the agonizing hours and days of alternate fear and courage for survival and the ultimate realization that mutual respect, understanding and love of neighbor are compelling factors for the attainment and preservation of peace.
Click Here to VIEW or DOWNLOAD the September to Remember Booklet