YMDP: Revitalized and Reenergized | Oct 6, 2010
Silsilah believes that through living life-in-dialogue, people of different faiths and cultures can create a world of harmony, solidarity and peace.
Silsilah also believes in the crucial role of media in bringing about this goal.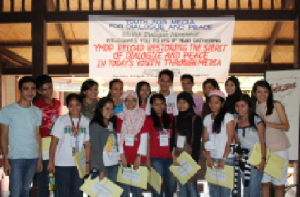 Acting on these beliefs, Silsilah has been implementing a program aimed at the youth which seeks to increase media awareness among young people so that they receive with a critical mind all that they receive over any of the different types of media and making them realize the power of media in forming values and attitudes. This heightened awareness or greater media literacy will help the youth as they are exposed to media daily or when they become media practitioners themselves.
In 2001 a youth program was initiated involving young people then studying towards their college degrees and who were active in their campus publications and who were occasional contributors to the local papers. The group was dubbed Youth in Media for Dialogue and Peace (YMDP). The members organized activities which focused on sharing with other young people their concerns and interests in media as means for promoting the vision of Silsilah. These activities included media awareness seminars in schools, workshops, theater performances, contributions to local newspapers and airing radio shows and many other activities. One of the best attended were the band concerts, dubbed Rhythms of Peace, held for two years. Over time the original group graduated and became involved in their own careers and YMDP lost momentum.
To rekindle flames of hope and commitment to this Silsilah initiative, a two-day gathering of former, present and prospective members of YMDP took place on October 2 & 3, 2010 at the Oasis of Dialogue in Harmony Village, in Sinunuc, Zamboanga City. The activity was titled "YMDP Reload: Restoring the Spirit of Dialogue and Peace in Today's Youth through Media". The name for the group has also been modified, with a change in the preposition in the name. YMDP now stands for Youth for Media for Dialogue and Peace.
The activity was successfully carried out through the initiative of Norbert Solina, the Coordinator for the Media Center for Dialogue and Peace and the active involvement of three fourth year Mass Communication students of Ateneo de Zamboanga University: Karen Barba, Francel Joy de Leon and Apollo Santos. The three students had spent several weeks in the Media Center in connection with their internship for development communication.
Twenty five college students and one high school teacher attended the week-end activity. Helpful inputs were provided the attendees through topics presented by invited speakers. Mrs. Remedios Marmoleno (Chairman of the Silsilah Board of Trustees) spoke on "The Role of Media in Society". Mrs. Monabelle Blanco-Delgado, who teaches in the ADZU Mass Communication degree program, spoke on "Media Literacy". To help the revitalized YMDP in its pursuits, a talk on "Organizational Management" was given by Christian Olasiman who is in the staff of Cong. Isabelle Climaco-Salazar. Other than the cognitive inputs, the participants also went through activities that helped them clarify their interest in and commitment to YMDP and enhance their bonding with each other.
To ensure a more effective YMDP, individuals were identified who would be charged with the coordination of organizational activities. Norbert Solina was named Coordinator, Ms. Sheena Tajala as YMDP Secretary and three who would each head the three media units: Carlo Zion Gonzales for print media and Editor-in-chief; Arnold Bucoy for broadcast media and Documentation Director; Jay Aniñon for creative media and Event Organizer for YMDP.
Needless to say, Silsilah anticipates much from the re-vitalized and re-energized YMDP in the coming years.
(By: Francel Joy de Leon & Carlo Zion Gonzales, YMDP members)